CUMEDIAE aisbl and its team are the proud organisers of the final event in the context of the DISCE – Developing Inclusive and Sustainable Creative Economies project. The project is the result of the collaboration between researchers from the DISCE consortium, comprising the University of Turku, King's College London, Gran Sasso Science Institute, Stockholm School of Economics in Riga and CUMEDIAE. The event will take place on Thursday March 3rd, 2022 from 14:00 – 17:30 CEST.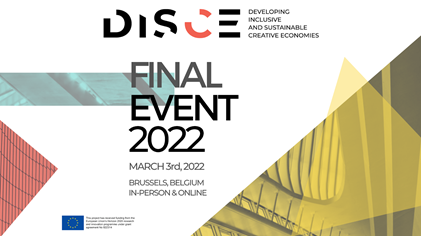 On this occasion, the researchers and project leaders of DISCE will present outputs and experts will engage in policy discussions around the theme "A call for more Inclusive Creative Economies".  Members of the CUMEDIAE aisbl team will be present and will actively participate in the debate.
The panelists will be gathered in the Aloft Hotel in Brussels, Belgium, and the panels will be broadcasted online for the wider Creative Economies stakeholders to engage with and available via DISCE online channels. 
Stay tuned for more details about how you can be involved! 
Check out the event info here