The online tool Culture Agora receives warm welcome from workshop participants looking for partnerships in the Cultural and Creative Industry (CCI) under Horizon 2020.
On 7 December 2016, CUMEDIAE attended the Horizon 2020 Project Factory Workshop for ICT Creative Industries. Held by Berlin Partner and European Enterprise Network in their Brussels office, the workshop targeted SMEs from Berlin and Brandenburg planning to submit their projects to EU funding calls and are looking for partners and collaborations.
The workshop gave advice on the development of successful funding applications for EU projects. Experts from European institutions presented initiatives and projects specifically addressed to the CCI under Horizon 2020. The EU programme is a financial instrument that emphasizes excellent science, industrial leadership and tackling societal challenges. Horizon 2020 aims to "improve competitiveness through stimulating research and innovation", as specified by guest speaker Philippe Gelin, Policy and Project Officer at the European Commission.
Although the programme promotes its easy access and simple structure, participants have to face certain challenges, such as finding partners with particular competences or experience. A consortium consisting of three independent legal entities from different EU member states is, however, an indispensable prerequisite for EU funding under Horizon 2020.
To enhance the search for partners, Stefanie Thomas, Head of Strategy and Projects at CUMEDIAE, contributed to the workshop by giving insights on CUMEDIAE's platform Culture Agora. The free accessible wiki platform does not only support organizations to make their own content visible but also provides a source for finding partners, grants and other opportunities. It aims to empower collaborations by creating and interactive space for exchange. "Culture Agora is all about a spirit of building and enabling a creative environment", Thomas stated.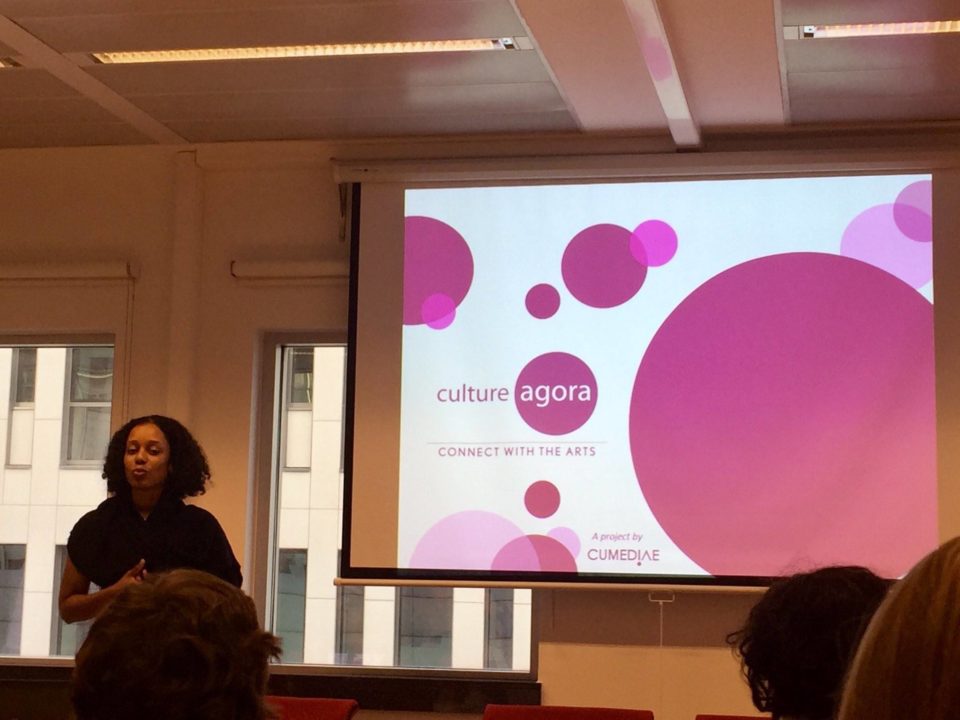 Despite its uniqueness, the team around Culture Agora constantly strives for further development. "It is our goal to become the best hub for cultural projects in development, partnerships and fundings in Europe", as we tweeted on our social media account @CultureAgora.
Whether you would like to share or find the content related to creative industries, visit our platform Culture Agora at: http://www.cultureagora.info/en/home